John Cage Festival '84


(Turin/Ivrea, 1984)

The John Cage Festival, that took place between Turin and Ivrea from May 5 to May 20 1984 (arranged and curated by the Cabaret Voltaire/Progetto Toreat association together with the Provincial and Regional Cultural administrations), has been a little bit overshadowed by the previous and more famous visits of Cage in Italy (from his stay in Milan at the end of the 50's that peaked with his participation at the quiz show Lascia o raddoppia, to the Empty Words concert at Teatro Lirico, Milan, 1977 and finally the Il treno di John Cage happening in Bologna, 1978) and his death in 1992. On the contrary, this festival deserves to be throughly analyzed, since it was the longest Italian celebration of the composer with him attending.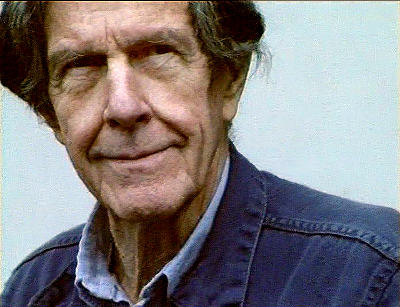 Caption: John Cage in Turin
However, Cage was not only a spectator, since he was actively present in the festival both as a speaker and as a performer. For the first time in Italy he read Muoyce and Mushroom Book. The festival featured also the world premiere of the first sixteen Freeman Etudes (Books I and II), played by Hungarian violinist János Négyesy, and the first Musicircus with children, which involved more than 800 pupils from elementary schools.
Moreover, the festival focused on Cage's piano pieces, thanks to pianist Giancarlo Cardini, and on his works for percussion, performed by the Cincinnati Percussion Group. Apart from all these concerts with Cagean music, the encounters between Cage and the students of the School of Music (Conservatorio) and his conference upon avantgarde must be remembered. Not to mention Roberto Masotti's photographs CAGE exhibition of portraits of the composer.
Besides Masotti's pictures, some footage has also survived: Marco di Castri's documentary H.C.E. - John Cage a Torino, which encompasses the whole festival by means of a succession of excerpts from all concerts, and the long tv special by Luciano Martinengo about the Musicircus with children (of which you can see an excerpt below), that he curated for Rai (more details in the Video section). Here is the complete program anyway:
Saturday, May 5, Teatro Alfieri, Turin, 9pm:

Muoyce

[John Cage: voice]
Monday, May 7, Aula Magna della facoltà di Magistero, Turin, 10.30am: meeting with John Cage on

The American avantgarde from Black Mountain College on

Tuesday, May 8, Teatro Giacosa, Ivrea, 9pm and Thursday, May 17, 9pm, Auditorium Rai, Turin:

Music for Prepared Piano: Sonatas and Interludes, Winter Music, Solo for Piano

[Giancarlo Cardini: piano]
Wednesday, May 9, Teatro Alfieri (not at Teatro degli Infernotti), Turin:

Mushroom Book

[John Cage: voice, Gigliola Nocera: introduction]
Thursday, May 10, 4pm, al Conservatorio, Turin, meeting between Cage and the students of the composition course
Friday, May 11, 9pm, Teatro Giacosa, Ivrea; Sunday, May 13, 9pm, Conservatorio, Turin,

Freeman Etudes

[János Négyesy: violin]
Tuesday, May 15, Discoteca Big, Turin, concert for percussions (

Amores, Imaginary Landscape n°2, Credo in Us, Branches

) [Cincinnati Percussion Group: Allen Otte, James Culley and William Youhass, percussions]
Saturday, May 19, Palazzetto Le Cupole, Turin, 10.30am:

Musicircus with children

Sunday, May 20, Centro Congressi La Serra, Ivrea, 9pm:

Mushrooms et variationes

[John Cage: voice; Gigliola Nocera: introduction]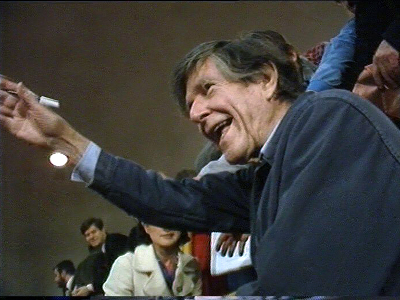 Caption: John Cage at the Musicircus with Children, Turin
Finally, thanks to the precious online archives of newspapers La Stampa and l'Unità, you can read below an extensive collection of articles around the Festival, where Cage once again managed to shock the Italian audience. Everybody recalls the pandemonium during his Empty Words concert in Milan (1977). So was the reaction of a bunch of spectators during the Muoyce performance: whistles, boos and all sorts of protests, while Cage exited the theater with a smile on his face, content, as if nothing had happened.