John Cage at
Lascia o raddoppia?


(Milan, 1959)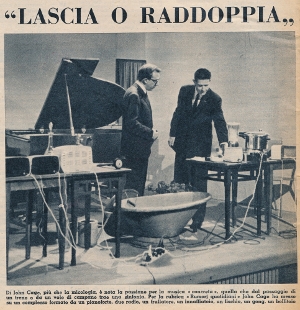 Caption: John Cage is mostly known for his love toward concrete music rather than toward mycology. Such a music makes a symphony out of bells or the sound of a train passing by. For the daily noises program, John Cage put up an orchestration consisting of a piano, two radios, a blender, a watering can, a whistle, a gong and a kettle (from Radiocorriere-Tv n°7, February 15-21 1959)
There have been lots of rumors over the years about the participation of John Cage as a mushroom expert at the Italian quiz show Lascia o raddoppia, hosted by Mike Bongiorno. John Cage was in Milan as a guest of composer Luciano Berio who was then working at the Studio di Fonologia (part of RAI, the Italian broadcasting company) where he was doing audio research. Sylvano Bussotti, Umberto Eco, Bruno Maderna, Roberto Leydi, Marino Zuccheri, Peggy Guggenheim and Berio's wife, Cathy Berberian, were all working side by side with Cage those days (end of 1958, beginning of 1959) and according to some unconfirmed rumors, due to the close relationship of some of them with RAI, they didn't just help Cage to be selected as a contestant in the quiz show, but some say they also smuggled out some of the questions he was going to be asked, to allow him to win the 5 million Lire jackpot! However, considering John Cage's stature, this sounds quite improbable.
Anyway, during his five appearances on the show, Cage entertained the audience with his weird compositions (namely Amores, Water walk e Sounds of Venice). The audience was in fact constantly reminded that he was a composer (from Stony Point, near New York), although Mike Bongiorno often joked with him about his unconventional musical pieces. No footage has survived of this peculiar event (it seems it has been lost or destroyed in spite of those claiming to have seen it some years ago during a late television broadcast). John Cage would have participated the following year at the American tv show I've got a secret and perform one of the pieces he had presented in Italy, Water walk. You can watch the video here (strangely enough, three years later John Cale was a guest on the same show, because he had joined an initiative promoted by Cage himself: the world premiere of Erik Satie's Vexations, as he had been one of the twelve pianist alternating at the piano for more than 18 hours; here is the video).
There should be an audio tape – from which the final dialogue between Cage and Bongiorno was transcribed and which includes both the mushroom Q&A and the closing snippet, when Bongiorno was hoping Cage would spend more time in Italy, while hoping his music would disappear instead, contrary to what Cage told him before saying goodbye – somewhere, but it has not surfaced yet. This transcription appeared for the first time in the October 1975 issue of Gong, an Italian musical magazine, and later reappeared on some other Italian publications about Cage.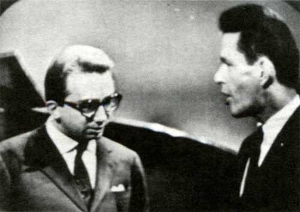 Caption: Mike Bongiorno and John Cage: a screenshot from the videoclip?
However, some pictures exist. Some of them come from the Radiocorriere-Tv magazine, that usually featured a weekly report of the quiz show. There is one in particular (see picture above) in which the astonished and perplexed host, Mike Bongiorno, is staring at Cage's unusual musical equipment. This one on the left instead, seems to be a screenshot of the elusive video which cannot be found anymore.
More images appeared on the daily newspaper La Stampa from Turin, where brief summaries of the quiz episodes were featured. Thanks to the online archive of the newspaper (www.archiviolastampa.it), I could eventually state when Cage had really participated to the quiz show, usually aired on Thursdays. Cage was a guest for the first time on January 29, 1959, then he returned on February 5, 12, 19 and 26. Here are listed the most significant (chronologically ordered) excerpts from La Stampa (translated in English) that reveal how Cage was welcomed in Italy.
Later, I began to gather the photographic and text material published on the Radiocorriere-tv issues regarding this period which you may find below by clicking here.
More recently, thanks to the new Archivio Storico (historical archive) of Corriere della Sera (that I kindly thank for allowing me to publish on this site the articles of its archive), I was able to add additional material which describes the winning participation of John Cage to the Italian quiz show.
In 2018 a beautiful picture of a concentrated John Cage in the booth during an episode of Lascia o raddoppia appeared. The photo comes from the archive of the Studio di Fonologia Rai, now under the responsibility of Associazione culturale NoMus.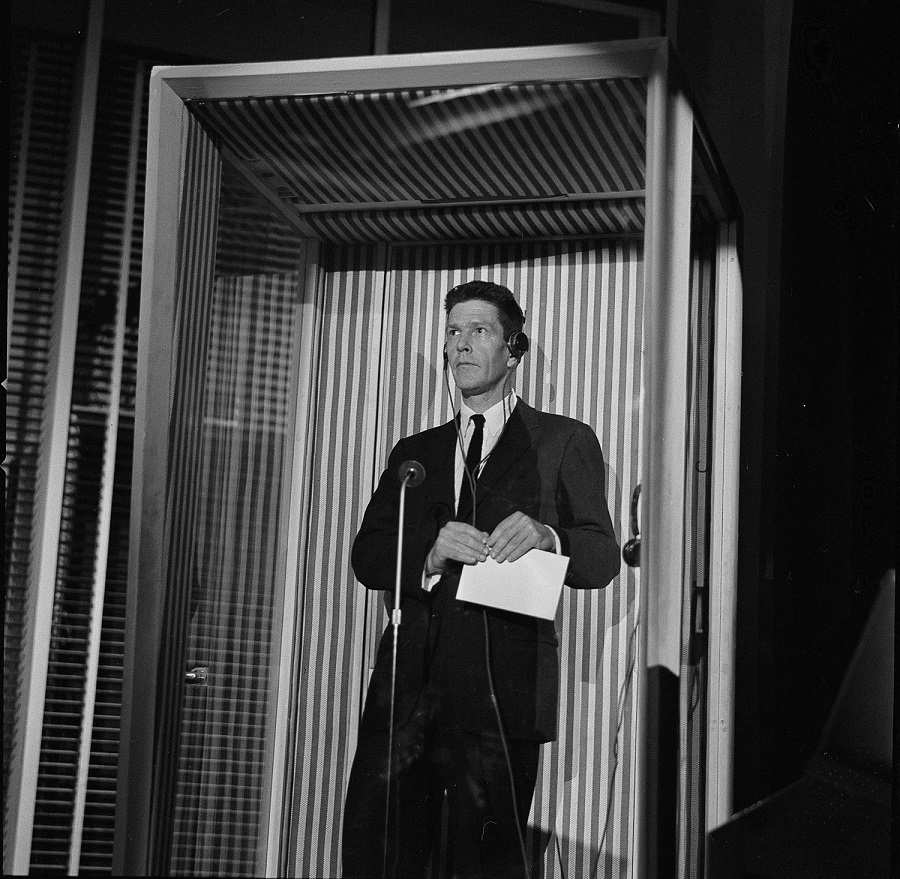 Caption: John Cage in the booth during an episode of Lascia o Raddoppia, 1959 [copyright of the Archive of Studio di Fonologia Rai]
The suspect that the one of pictures above was a screenshot of an old tv screen while Cage was participating in the quiz show, was confirmed by two items recently found in the John Cage Collection of the Northwestern University (Evanston, IL).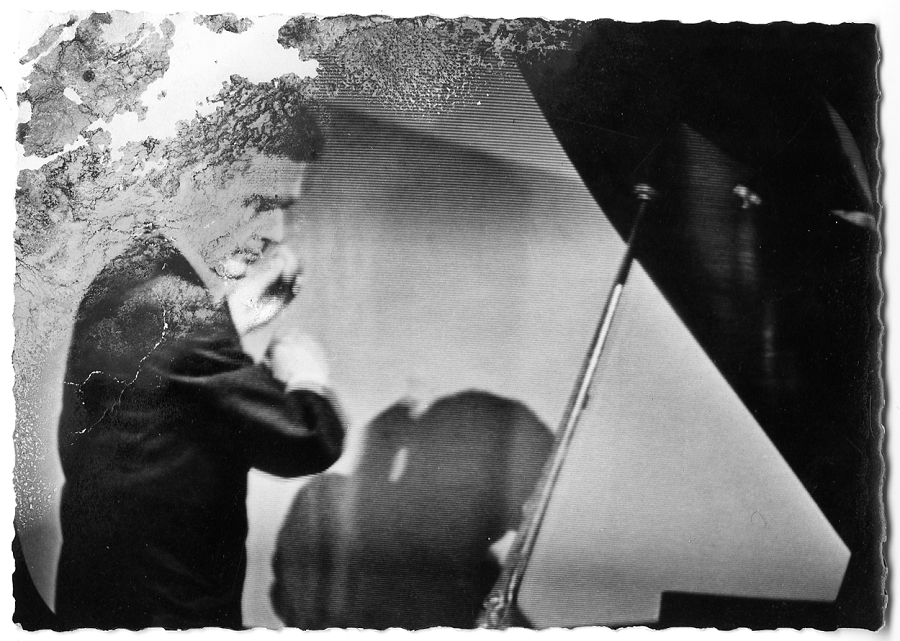 Caption: John Cage performing one of his works [John Cage Collection, Northwestern University]
In the first picture above, John Cage is probably performing Water Walk, one of the works he presented in the show. In the second picture, a smiley Cage is together with the host, Mike Bongiorno. It would be interesting to know who took those pictures. Maybe someone who knew he was participating in the show, and maybe someone who helped him to be selected for it.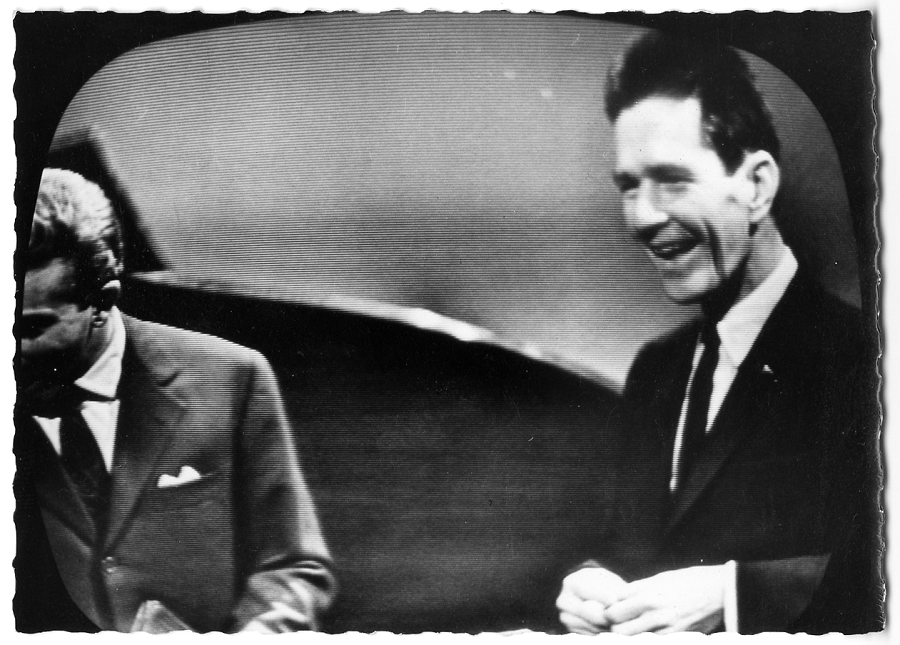 Caption: John Cage and Mike Bongiorno [John Cage Collection, Northwestern University]
I'd like to thank John Green for locating the photos, Alan Akers from the Northwestern archives for sharing the pictures and the John Cage Trust for allowing me to publish them.
In June 2020, a new source, the Archivio Storico Intesa Sanpaolo that I thank for allowing to share the pictures here, added a major contribution to the photographic testimonies of Cage's participation to the Italian quiz show with six new images taken from his first and last appearance, on January 29 and February 26, 1959, respectively. In the January 29 images, Cage is sitting behind the piano playing his piece Amores.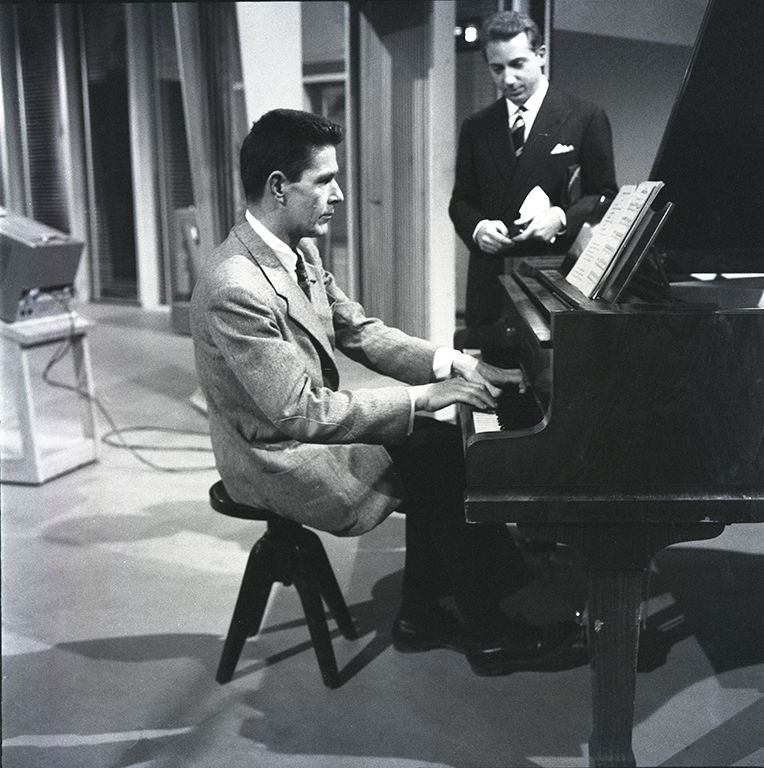 Caption: John Cage behind the piano at Lascia o Raddoppia? (#1), January 29, 1959 [photo by Lorenzo Pizzamiglio, Archivio Publifoto Intesa Sanpaolo]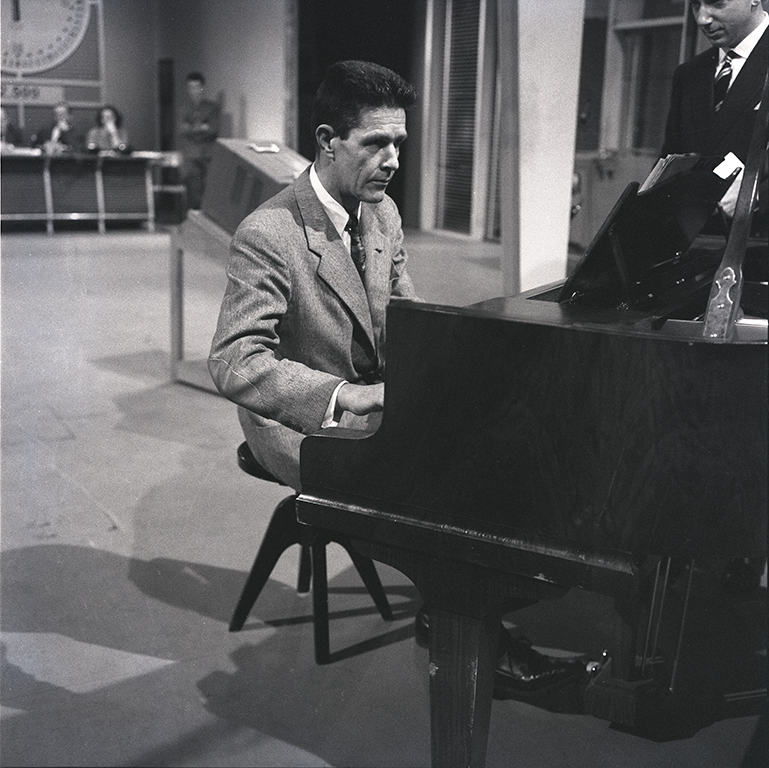 Caption: John Cage behind the piano at Lascia o Raddoppia? (#2), January 29, 1959 [photo by Lorenzo Pizzamiglio, Archivio Publifoto Intesa Sanpaolo]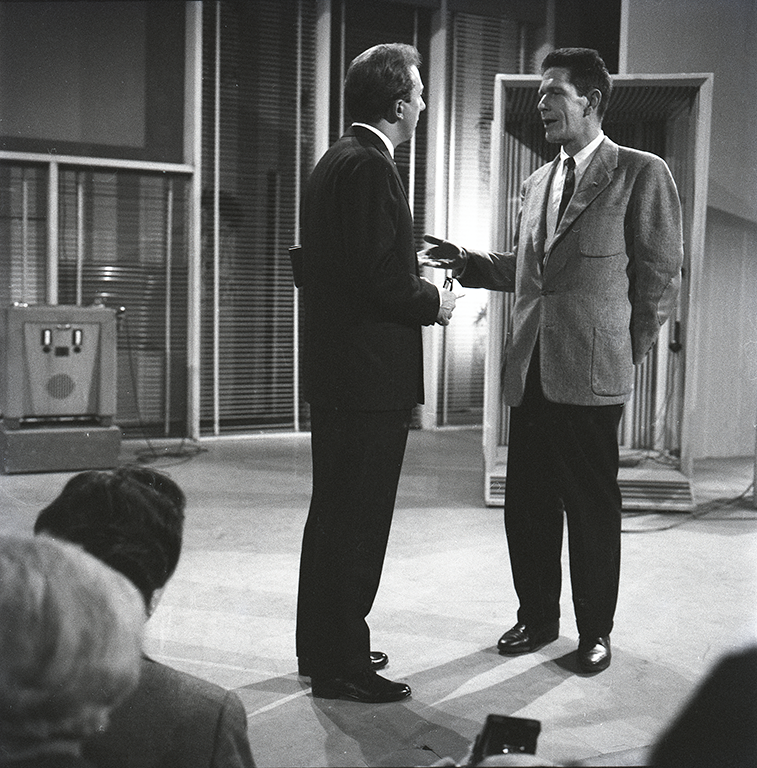 Caption: John Cage in the studio with Mike Bongiorno a Lascia o Raddoppia? (#3), January 29, 1959 [photo by Lorenzo Pizzamiglio, Archivio Publifoto Intesa Sanpaolo]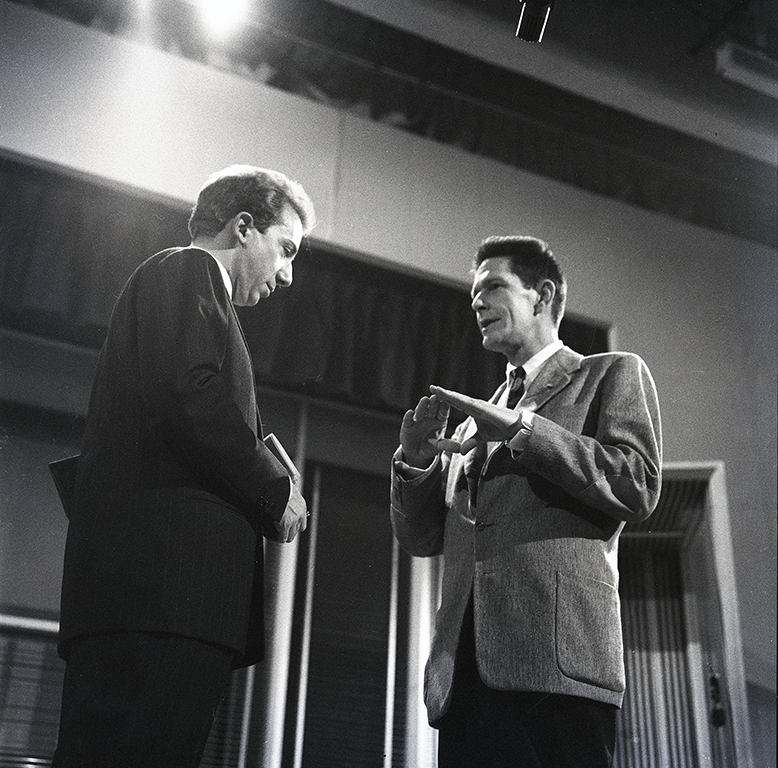 Caption: John Cage in studio con Mike Bongiorno a Lascia o Raddoppia? (#4), 29 gennaio 1959 [photo by Lorenzo Pizzamiglio, Archivio Publifoto Intesa Sanpaolo]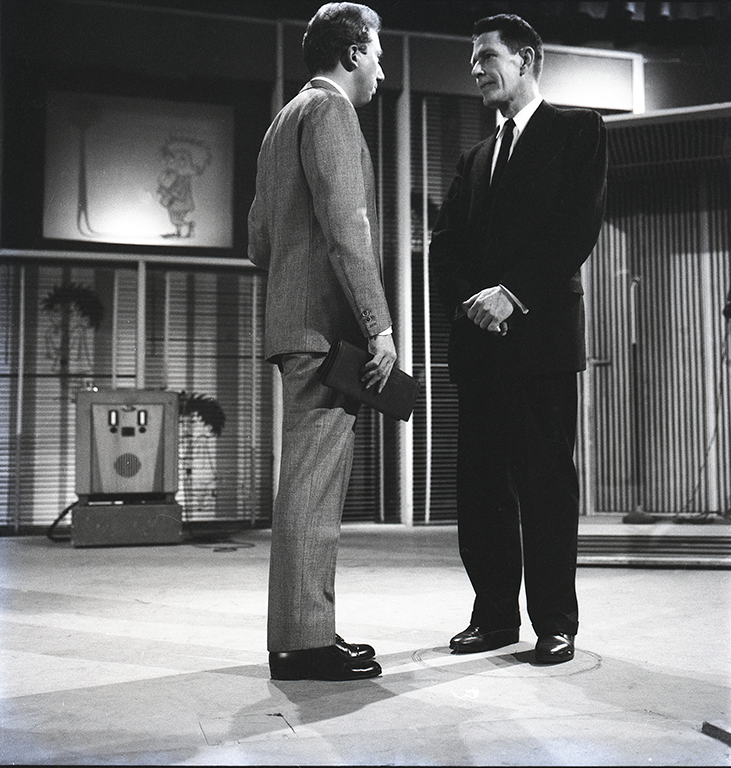 Caption: John Cage in the studio with Mike Bongiorno at Lascia o Raddoppia? (#5), February 26, 1959 [photo by Emilio Bianchi, Archivio Publifoto Intesa Sanpaolo]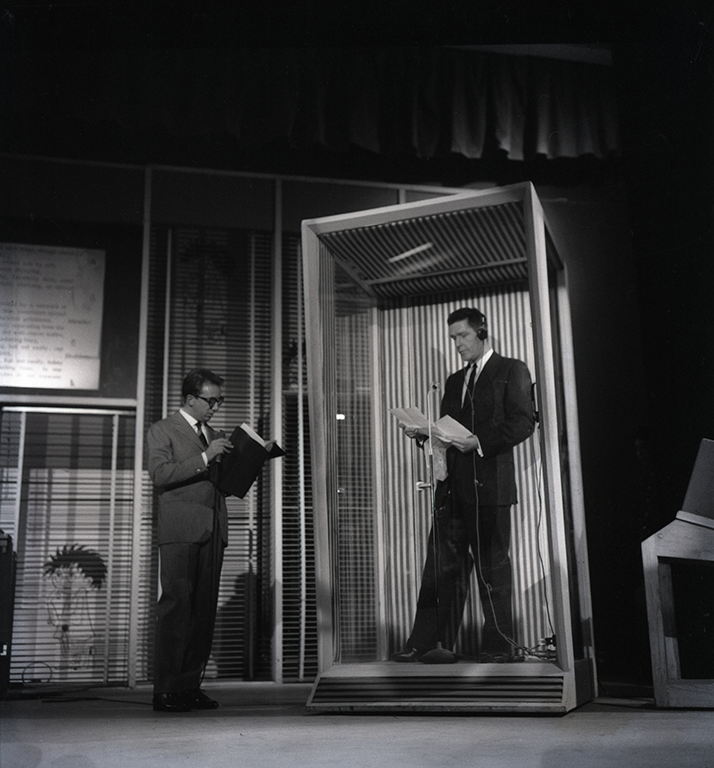 Caption: John Cage in the booth at Lascia o Raddoppia? (#6), February 26, 1959 [photo by Emilio Bianchi, Archivio Publifoto Intesa Sanpaolo]