Among the projects carried out by John Cage in Italy, one remained a chimera: the sonorization of a forest on Montestella d'Ivrea: the amplified park project.
The project was born at the end of the 70's. In the month of February 1979, Cage was invited in Italy to detail the technical and educational aspects of the idea. The promoters of the initiative were Alfredo Tradardi, cultural city councilor of Ivrea at that time, and Luciano Martinengo, writer and director who had just curated Emme Edizioni's volume on Cage Dopo di me il silenzio (?) [After me silence (?)] with Franco Mogni. Cage was accompanied by John Fullemann, the sound technician who should have assisted Cage in the practical accomplishment of the project.
The idea consisted of the installation of electronic devices on the vegetation at the top of Montestella, a hill near Ivrea, which would amplify and reproduce the sounds obtained by touching and caressing the plants. It was project conceived for the children of Ivrea's elementary schools, so that they could (re)embrace the sounds of nature.
Initially scheduled for the spring of 1979, the project was postponed in the 80's. However, due to an incredible series of unlucky circumstances it was never completed. The May 1984 Cage Festival in Turin and Ivrea was a consequence of this undone vegetetional project.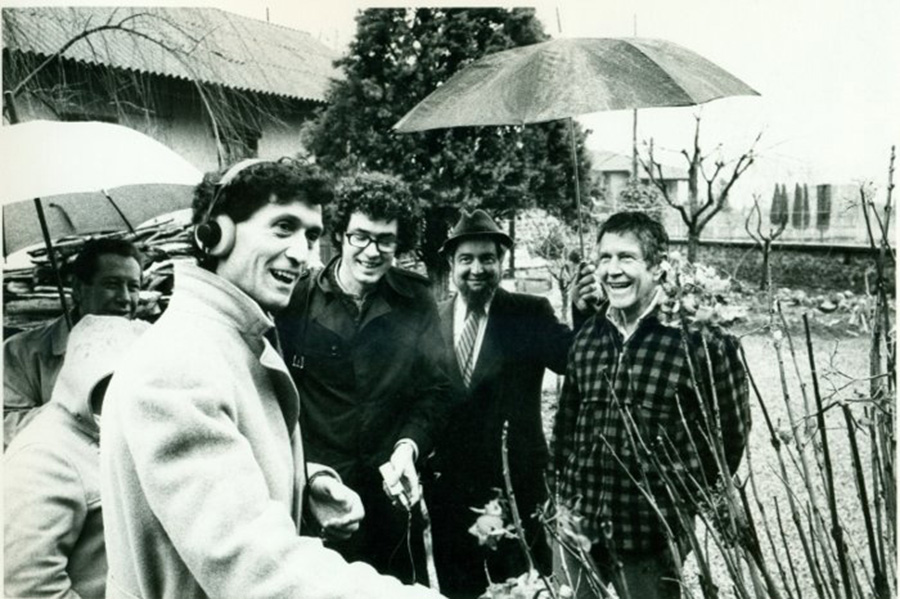 Caption: Luciano Martinengo (wearing the headphones), John Fullemann, Alfredo Tradardi (holding the umbrella) and John Cage [photo by Roberto Masotti]
Below you can read the account upon the unrealized amplified park project by Ivrea's former city councilor Alfredo Tradardi and its technical description by Cage and Fullemann (both articles were published inside the official program of the Cage 1984 Festival in Turin/Ivrea). More below, you can also find a collection of articles from some Italian newspapers focusing on Montestella d'Ivrea.
Finally, thanks to John Fullemann it is now available a detailed account of the electronic devices that should have been employed on this occasion (and on others too).
A big thanks goes to Alfredo Tradardi, who kindly shared all the materials in this page (newspapers articles, images and excerpts from the Cage 1984 Festival program), Luciano Martinengo who put me in touch with him in the first place, Roberto Masotti for the photographs and John David Fullemann for the techincal info.