Contemporary music festivals are held in Italy
(Palermo and Taormina, Milan, 1949; by John Cage)
This piece of criticism-reportage originally appeared in Musical America (June 1949). It indicates Cage's growing disappointment with the European 'avant-gardes'.
MILAN. ITALY. Nothing world-shaking took place at either the 23rd Festival of the International Society for Contemporary Music (ISCM, Palermo-Taormina, April 22-30) or the First Congress for Dodecaphonlc Music (Milan, May 4-7). The quantity of music was not great on either occasion, since in Sicily elaborate arrangements had been made to acquaint the visitors with Greek ruins and Norman-Saracenic architecture, while in Milan the twenty-odd composers who gathered there found talk about the twelve tones more engaging than the twelve tones themselves.
High quality remained the unchallenged property of works known for some time to possess it (Schoenberg's Pierrot Lunaire di Schoenberg and Anton Webern's Variations). On each occasion, mediocrity reigned to such an extent that the simple entering of a concert hall became in itself a stupefying act. Many veterans were of the opinion that the fairly venerable ISCM should give up the ghost, while the First Dodecaphonic Congress very wisely voted itself out of existence on its fourth day.
Comic relief was provided in Palermo by a book of program notes in four languages, translated so literally from the Italian, and with a result so hilariously funny, that all the foreigners were kept in good humor. And everyone was kept jumping, both in Milan and in Sicily, never knowing what music to expect or when; since programs were not only continually changed, but were in some cases cancelled, and in still others sprung up unannounced and at strange hours (midnight, for example).
Of the forty-four works heard by this reporter, two used advanced sounds; ten were by established masters (Willem Pijper, Alfredo Casella, Charles Koechlin, Arnold Schoenberg, Alban Berg, Anton von Webern, Ernst Krenek, Wallingford Riegger, and Luigi Dallapiccola); fourteen were nuovo-dodecaphonique; and seventeen were miscellaneous varieties of contemporary music, some more impressionistic than neoclassical, others vice versa, and one was not modern at all (Giuseppe Mule's Music for The Cyclops).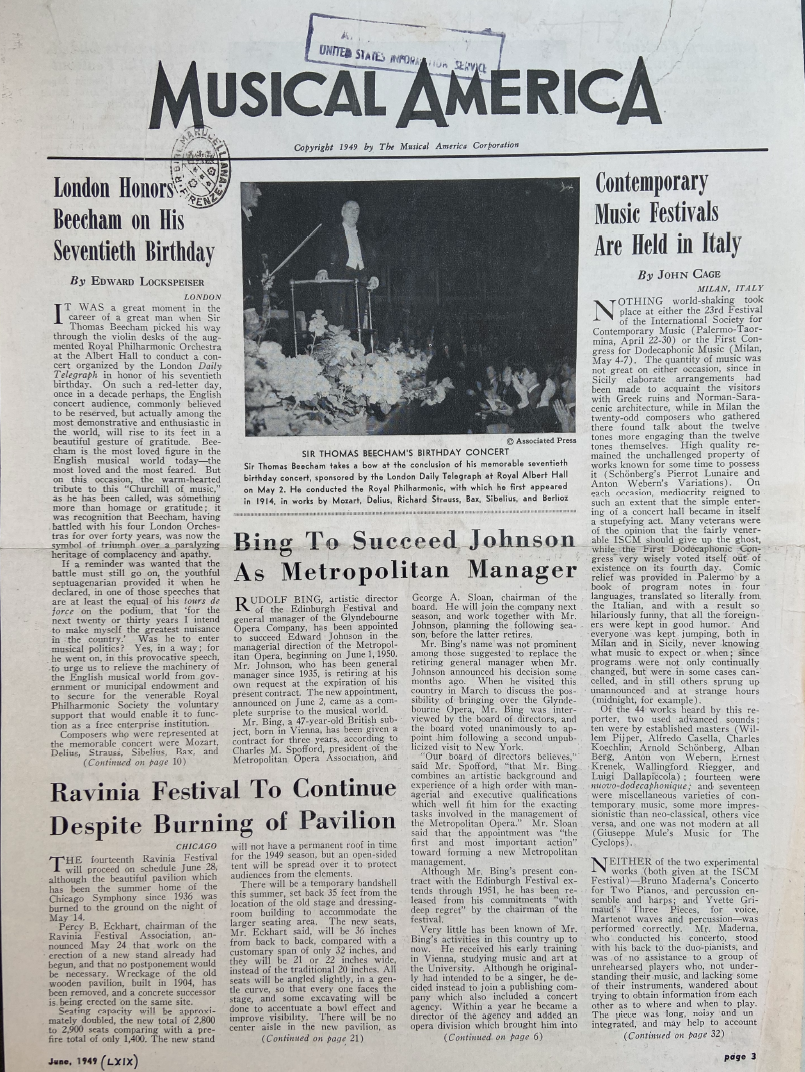 Caption: the June 1949 issue of Musical America with John Cage's article
Neither of the two experimental works (both given at the ISCM Festival)— Bruno Maderna's Concert for two pianos, and percussion ensemble and harps; and Yvette Grimaud's Three Pieces for voice, Martenot waves and percussion—was performed correctly. Mr. Maderna, who conducted his concerto, stood with his back to the duo-pianists, and was of no assistance to a group of unrehearsed players who, not understanding their music, and lacking some of their instruments, wandered about trying to obtain information from each other as to where and when to play. The piece was long, noisy and unintegrated, and may help to account for Maderna's recent conversion to dodecaphony.
Miss Grimaud's work also suffered from insufficient rehearsal, absence of a singer, and missing instruments. Her quartertone counterpoints of melodies characterized by large skips were played very quietly in a single color, although the Martenot waves employed are capable, as was demonstrated before the performance, of great variety in both timbre and amplitude. According to the program note, The essential idea of the one-fourth-non-tempered-tune-songs rests on one cell, be it rhythmic as well as melodic, which engenders all together, and sometimes two songs, cells in constant transformation and development. This music was excessively timid in expression, and it seemed put together over-minutely. But then, as the program note explained, Each last particle has its reasons of being.
Both in Sicily and in Milan the listener was introduced to the work of twelve-tone composers who in most cases had enjoyed no direct contact with the Viennese trinity—Schoenberg, Berg, and Webern. The will to set out on this unpopular path implies in some cases courage and originality of thought, but in others it is an expression of a European weakness for tradition. [Hanns] Jelinek, [Sándor] Jemnitz, [Camillo] Togni, [Karl Amadeus] Hartmann, [Humphrey] Searle and [Hans Erich] Apostel bolstered up their dodecaphony with well-known forms from the past—respectively, Bach Invenzioni Music the Whole World Loves to Play, Italian Impressionism, German Neoclassicism, student counterpoint exercises, and Beethoven—implying on their part a possible lack of faith in the new dispensation.
On the other hand, one can report with delight that Elizabeth Lutyens' The Pit a dark, dreary, depressing stage work characterized by slow, aimless, melodic leaps— was not only original but unique. Miss Lutyens is a twelvetone composer who heard Schoenberg's Pierrot Lunaire for the first time in Palermo; she is also the wife of the President of the ISCM [René Leibowitz],, and her work is presented at each Festival of the Society. This information is retailed because it helps to explain the present schism between the United States Section and the rest of the organization. The constitution of the lSCM expressly forbids the performance of music composed by its officers, and, Miss Lutyens, although not exactly an officer, is in daily contact with the most influential one. Actually, she is not the only offender; over one-fourth of the music in the 1949 ISCM Festival programs was written by officials in the organization.
Wladimir Vogel's Thyll Clues Suite, was a labored, programmatic work in which the program was never clear. Percussive effects were applied as though they were bandages, but no resolution of the problem of percussion in twelvetone composition was presented. Riccardo Nielsen's Three Movements for Strings di Riccardo Nielsen and H.J. Koellreutter's Nocturnes for contralto and string quartet, were more acceptable – the first because a consistent sonority, one of the valid contemporary twelve-tone objectives, was achieved, in this case by means of intervallic control; and the Koellreutter, because of its strict but poetic use of the basic row.
Serge Nigg's Variations , for piano and ten instruments, heard at Taormina, was the most unpopular work of the Festival. An uncomfortable silence following its performance was broken by general hissing. Nigg is apparently in a state of transition, for, although he was one of the organizers of the Milan Congress, he resigned from it by means of an involved letter, which, without being clear about his present musical position, stated his convictions of a social-political nature. The Variations were willfully ugly and uncompromising intellectual. They proceeded from relative simplicity to thorough complexity with a ruthless absence of humane feeling. Nigg does not seem to have yet taken 'the walk around himself' that Satie remarked was necessary before sitting down to compose.
The outstanding new twelvetone works were Matyas Seiber's Fantasia Concertante for violin and string orchestra, convincingly played by Max Rostal and conducted by Constant Lambert; and Wladimir Woronoff's Sonnet to Dallapiccola a piano piece sensitively played by Genevieve Joy. Both were heard at the Palermo Festival. The Seiber work avoids the usual twelve-tone sound by freeing the accompaniment from the tone-row when the soloist is confined to it, and viceversa. This composer is English, but his Hungarian birth is evident in the fiery and rhapsodic nature of his continuity. The Woronoff piece, utilizing a wide variety of piano sonorities, is distinguished by a rhythmic structure derived from an intelligent and perceptive study of versification. This work, as adventurous in the field of structure as the Grimaud and Maderna pieces were in that of instrumentation, was defined in the program notes as a Piece of Poli-variations. But as the note continued, it is important to underline that it constitutes the first essay and the first step in the perspected direction, without any pretense towards immediate efficacy.
Stage works by [Jean] Françaix and [Knudage]; chamber music by [Armin] Schibler, [Henri] Dutilleux, [Gino] Contilli and Brokovec [Pavel Bořkovec]; symphonic works by [Lennox] Berkeley, [Miloslav] Kabelac, [Vincenzo] Tommasini, [Goffredo] Petrassi, [Giorgio Federico] Ghedini, [Marcel] Mihalovici, [Victor] Legley and [Jean-Louis] Martinet; and music for 'little complexes' by [Juan Antonio] Orrego-Salas and [Jocelin] Binet were played without influencing one's faculties one way or another. The Françaix work, Le Diable Boiteuz, inferior to similar works by Poulenc, stood out because Hugues Cuénod, with Gallic wit and brilliance, sang both its tenor and bass parts, thus at the last minute turning an unexpected gap in the cast into a tour de force to be remembered.
Of the other pieces, Victor Legley's Miniature Symphony and G.F. Ghedini's Concerto dell'Albatro for violin, cello, piano, recitation, and orchestra deserve special praise – the first for its balance of thought and feeling, its clarity and conciseness; the other, on a subject from Herman Melville, for its having beautifully conveyed an impression of mystery and the sea. Both these works survived performances by the orchestra of the Festival (the same cannot be said for L. Martinet's Orphee), the Orchestra Sinfonica di Roma della Radio ltaliana, which, regardless of its conductor, requires the filtering process of radio broadcasting in order to make its characteristic weaknesses of rhythm, sonority, and intonation in the least endurable. The Legley work, although not adventurous, is not pretentious – Each part is treated in its shortest expression; each element is reduced to the very necessary. On the whole, it radiates an atmosphere of which subsists in the slow movement too. The orchestra is relatively narrow; none too numerous the strings, the timbres and the brasses, always perdue and the battery formed only of the timpani.
In Milan, the performance of Webern's Symphony [Symphony for chamber orchestra, Op. 21] which this reporter would have given his eye-teeth to hear, was cancelled, along with other works by [Juan Carlos] Paz, [Joseph Matthias] Hauer, and [Helmut] Vogel. Cancellations here and in Sicily were generally blamed on difficulties with the Italian Customs. A rumor, in the case of a Hartmann Sinfonia was that it had been accidentally omitted from the rehearsal schedule. In view of the fact that many unrehearsed works were performed, this unofficial explanation seemed beside the point.
Just as Cuénod was the hero of the Palermo Festival, so Marcelle Mercenier, playing Anton von Webern's Variations for Piano [Op. 27] at a moment's notice, beautifully and sensitively, as the heroine of the Milan Congress, her playing was particularly welcome after that of Massimo Toffoletti, who had made Arnold Schoenberg's Suite Op.25 unrecognizable. Alban Berg's Lyric Suite also suffered at the hands of the Vegh Quartet, who gave it a polished but sugar-sweet rendition. The principle of balance requires that this music, more than most, be read with restraint. Dallapiccola's Five Fragments from Sappho a work that makes audible the beauty of the Italian countryside, its flowers, ruins, and vital nostalgia for the past; and [Wallingford] Riegger's Third Sympphony a vigorous, thoroughly American work, received happier treatment. They were performed by the Orchestra dei Pomeriggi Musicali di Milano, under the direction of Hermann Scherchen. [Ernst] Krenek's Kafkalieder for voice and piano, were exactly if not beautifully performed by Margherita de Landi and her husband, Edward Staempfli. The couple's concern for details of rhythm and intonation kept this music, which is not without character and vitality, flat and unwinged.
The masterworks in Palermo were less in number than in Milan. And, with one exception, inferior in quality. (This writer did not hear Karol Szymanowski's opera, King Roger, nor some of Stravinsky songs – first because he was suffering from a passing fever at the time, and the latter because they were presented at one of the unannounced concerts he failed to attend.) They were Casella's La Favola d'Orfeo an opera in one act, distinguished by its warm and gentle transparency; [Charles] Koechlin's Primavera for five instruments (flute, harp, and three strings) [it's the Primavera Quintet, Op. 156, for fluete, harp, violin, viola and cello], written in 1936 to celebrate the return of spring, noisily performed by an Italian ensemble, but worthy of a sweeter usage; and [Willem] Pijper's last work, the unfinished Fifth String Qaurtet, a pale but workmanlike example of the motive method applied to polytonality.
Above these, and above everything heard at Milan, too, rose Schoenberg's Pierrot Lunaire reminding one of the way Mt. Etna rises above Taormina. Marya Freund, at the age of 74, spoke-sang [sprechgesang] this work, accompanied by an extraordinary Italian ensemble directed by Pietro Scarpini, who also played the piano. This performance, on April 23 in the Villa lgliea at Palermo, was such that anyone who heard it will never forget it. A member of the audience who came all the way from Australia said that she understood then why she made the long voyage.
This reporter found himself trembling for some time afterwards and noticed others weeping. The hermetic nature of this work was given on this occasion an almost oracular character, so that one seemed to be hearing a special and profoundly necessary truth. The president of the organizing committee had written in his Welcome to the Festival, When later in our life each and every one of us shall have as a sweet leitmotif in the symphony of souvenirs, the vision of this Sunny Island on the background of limpid blue skies and celestial harmonies, we shall feel to have been fully paid up for the enthusiastic preparation of nine days of spiritual retreat. His wish, through Pierrot Lunaire, came true.