In ricordo del festival dedicato a John Cage svoltosi tra Torino e Ivrea nel maggio 1984, l'Archivio Nazionale Cinema d'Impresa e la Libreria Cossavella presentano
John Cage a Torino e Ivrea,
percussioni, bambini, funghi e…
sabato 11 aprile 2015
C.so Cavour, 11, Ivrea, ore 20.30
Intervengono Alfredo Tradardi, Francesca Cola, Davide Gamba e Elena Testa
Nel 1984 John Cage viene a Torino e Ivrea per quella che diventò la più lunga e memorabile manifestazione a lui dedicata in Italia. L'Archivio Nazionale del Cinema d'Impresa e la Libreria Cossavella di Ivrea vorrebbero far rivivere quel felice momento con i film di repertorio e le testimonianze di chi c'era.
Quella fu una settimana di utopia concettuale e sovversiva che sconvolse le due città e a distanza di 30 anni è ancora vivo nelle memoria, per la capacità di coinvolgere non soltanto i cultori di musica sperimentale ma i bambini delle scuole, coinvolti nella creazione di un evento musicale alle cupole di Via Artom, gli "heroes" del Big, la celebre discoteca dell'epoca sede di un "concerto per cactus"; gli spettatori del Teatro Alfieri nello spettacolo Muoyce, una performance che vede Cage declamare sillabe sparse dal Finnegan's Wake di Joyce.
Del Festival John Cage rimangono due documenti filmati: il documentario di Marco di Castri H.C.E. – John Cage a Torino, che abbraccia tutto il festival attraverso estratti dai concerti, e il lungo servizio realizzato per la Rai da Luciano Martinengo sul Musicircus with children. Accanto a queste testimonianze, il programma prevede inoltre Musica in corso girato nel 1966 da uno dei maestri del cinema sperimentale italiano e le riprese inedite della performance realizzata da John Cage a partire dalla stazione di Bologna.
PROGRAMMA
Musica in corso, 1966, durata 14'
di Alfredo Leonardi.
Gli spartiti di Cage in larga misura non esistono. Sono composti da indicazioni di come fare lo spartito: Una serie di trasparenti con fori, punti e linee buttati uno sull'altro in modo casuale.
Leonardi prova a seguire più o meno questo itinerario con una tecnica di ripresa attenta ai fatti visivi.
Il Treno di John Cage, 1978, durata 12' – senza sonoro.
Girato inedito, conservato nell'archivio cinematografico delle Ferrovie dello Stato. Su un'idea di Tito Gotti, Cage realizza in Italia un happening musicale basato sulla sonorizzazione di un treno nel corso di tre escursioni differenti lungo alcune linee ferroviarie poco trafficate. Di questo materiale d'archivio non si è conservato il sonoro.
John Cage e i bambini, 1984, durata: 56'
di Luciano Martinengo.
Il Musicircus organizzato da John Cage a Torino il 19 maggio 1984 alle cupole di Via Artom, con 800 alunni delle scuole elementari.
H.C.E. – John Cage a Torino, 1984, durata: 21'
di Marco Di Castri.
Documentario sul festival dedicato a John Cage del maggio 1984. Estratti dai concerti della rassegna (tra cui Branches, Muoyce, Sonatas and Interludes) e un'intervista a John Cage.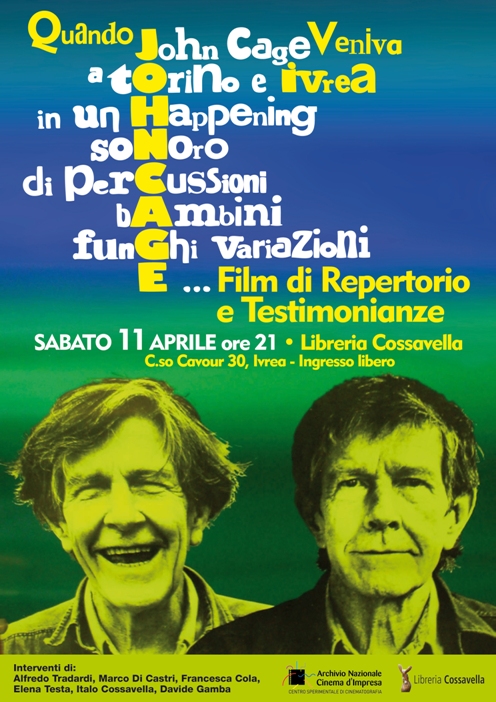 To celebrate the festival dedicated to John Cage that took place between Turin and Ivrea in May 1984, the Archivio Nazionale Cinema d'Impresa together with Libreria Cossavella present
John Cage a Torino e Ivrea,
percussioni, bambini, funghi e…
Saturday, April 11 2015
C.so Cavour, 11, Ivrea, 08.30 pm
Guests: Alfredo Tradardi, Francesca Cola, Davide Gamba and Elena Testa
In 1984 John Cage came to Turin and Ivrea for the longest and most memorable retrospective dedicated to him in Italy. The Archivio Nazionale del Cinema d'Impresa and the Libreria Cossavella in Ivrea would like to relive that happy moment through archival footage and testimonies of those who were there.
It was a a week filled with conceptual and subversive utopia that shocked the two cities and 30 years later is still a vivid memory as it involved music connoisseurs, pupils from schools who participated at the Musicircus for children happening, the "heroes" of Big, the famous club transformed into the venue for a "concert for cacti" and the audience of Teatro Alfieri during Muoyce, a performance that featured Cage lecturing random syllables from Joyce's Finnegan's Wake.
Two films document that festival: Marco di Castri's H.C.E. – John Cage a Torino, which encompasses the whole festival through a series of excerpts from various concerts and the long RAI program by Luciano Martinengo about the Musicircus with children. Together with this footage, the program will also feature Musica in corso shot in 1966 by one of the masters of the Italian experimental cinema and the yet unseen archival footage of John Cage's train in 1978.
PROGRAM
Musica in corso, 1966, duration 14'
by Alfredo Leonardi.
John Cage' scores don't exist. They are instructions to teach how to create the score: a series of transparent sheets with holes, dots and lines overlapping in a casual way.
Leonardi tries to follow the same itinerary by means of a shooting technique focusing on visual facts.
Il Treno di John Cage, 1978, duration 12' – no audio.
Unreleased footage found in the archives of the Ferrovie dello Stato (Italian railways). Based on an idea of Tito Gotti, Cage conceives in Italy a musical happening consisting of the sonorization of a train during three different escursions along three not very busy railway lines. No audio of this material survived.
John Cage e i bambini, 1984, duration: 56'
by Luciano Martinengo.
The Musicircus organized by John Cage in Turin on May 19, 1984 at the Cupole in Via Artom, with 800 pupils from the elementary school.
H.C.E. – John Cage a Torino, 1984, duration: 21'
by Marco Di Castri.
Documentary upon the festival dedicated to John Cage in May 1984. Excerpts from the retrospective (including Branches, Muoyce, Sonatas and Interludes for prepared piano) and an interview with John Cage.